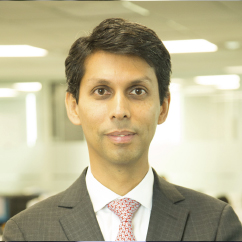 Claudio Tabilo
Director
---
Claudio Tabilo is a senior associate at G-advisory. He holds a degree in electrical engineering from Universidad de Chile, and a master's degree in business administration (MBA) from Pontificia Universidad Católica de Chile.
He has more than 17 years' experience in the energy sector, having pursued his career at Endesa (now Enel Generación), the largest electric utility in Chile, and Celeo Redes, one of the main transmission companies, as a manager in the commercial, business development and regulatory affairs areas, leading the promotion of renewable energy and power transmission projects. His experience has given him an in-depth knowledge of all stages of energy project development, from inception to entry into operation. He has also participated in processes for the financing of energy projects and for obtainment of certification in the areas of quality, health and safety, and environment.
Since 2020, he has been Country Manager of the G-advisory office in Chile, which offers our services to countries in the Southern Cone region.