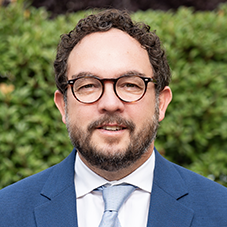 Luis Cabrera
Director
---
Luis Cabrera is a principal in the area of ESG at G-advisory and has over 20 years' experience in diverse areas of ESG, sustainability, energy and mobility. He has participated in over 500 sustainability projects with a strategic, technical and economic focus and has a wealth of experience. His most recent projects notably include 7 years as head of the sustainability, ESG and sustainable mobility area at CBRE Real Estate and 4 years as head of smart cities and energy efficiency at DINSA, part of the ACS group.
Luis is a United Nations observer for COP 25, 26 and 27. He has also led R&D&i projects for electrical vehicle charging stations (CDTI) and energy mapping of cities (MITECO). He has been the president of the Spanish National Association of Energy Service Companies (ANESE) since 2018.
He has a degree in Agricultural Engineering from UPM and a degree in Social and Cultural Anthropology from UNED. He was one of the first to gain a Certified Energy Manager certification from the Association of Energy Engineers and he has a master's degree in occupational risk prevention from URJ (safety, industrial hygiene, and ergonomics and applied psychosociology).